The Trolley of Terror returns this October! Enjoy an evening of Albuquerque ghost stories brought to life on a narrated tour of haunted locations aboard ABQ Trolley. This year's tour is a combination of history, ghost stories and a couple of stops along the way (guests will de-board the Trolley for an up-close look at two haunted locations).
The main feature of this year's Trolley of Terror tour is the newly opened Painted Lady Bed & Brew (featured in Haunted Hotels and Ghostly Getaways of New Mexico). The Painted Lady dates back to 1881 when it was a brothel and saloon (read more about its sordid past here). Tour goers will disembark and be some of the first guests to receive a guided walk through the grounds (including an overview of the Painted Lady's haunts and tales of terror by the people who lived it).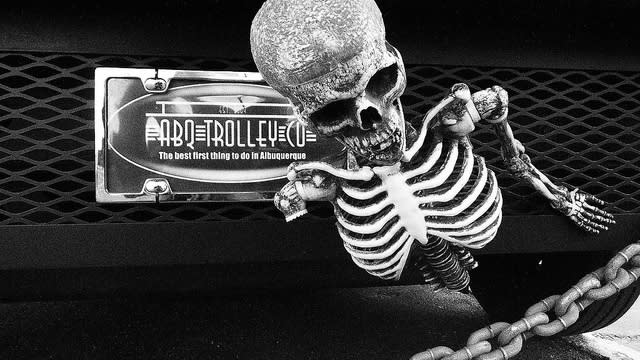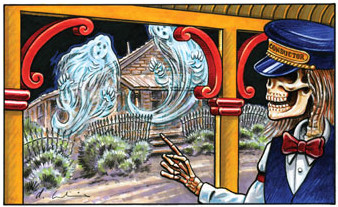 ---
TOUR SCHEDULE:

Thursday, October 25th at 6:30pm
Friday, October 26th at 6:30pm and 9:00pm
---
THINGS TO KEEP IN MIND. PLEASE READ VERY CAREFULLY:
1) October nights in Albuquerque are brisk. We will be riding in an open-air trolley; please dress accordingly. Jacket and gloves are recommended. Even a light blanket may be appropriate.
2) Stairs, low ceilings and uneven ground may all be found on the tour. Walking shoes are highly recommended.
3) Bring your own flashlight. Bring a digital camera.
4) The tickets are non-refundable but they are fully transferable. Sell them to somebody else or give them to a friend if you are unable to go.
5) The Trolley of Terror is rated 'R' for adult subject matter.
6) Alcoholic beverages are not permitted on the Trolley. Any person appearing inebriated will not be allowed to participate in the tour.
Availability for this special attraction is limited to 34 passengers per tour. Buy your tickets early to guarantee your seat. The Trolley of Terror is an open-air experience; please dress appropriately.
---
TROLLEY OF TERROR PRESS:
KOB.com: Trolley of Terror will take locals on tour of haunted downtown Albuquerque buildings
KRQE.com: Site highlights haunted places in NM
NOTE: The Trolley of Terror is rated R for adult subject matter. Bring children at your own discretion. The Trolley of Terror will only be cancelled if the roads are dangerous and not drivable (snow-packed, icy, etc). Tours will not be cancelled for cold weather. Please dress appropriately.
Please contact us for more information and for sponsorship opportunities.
---
NOTE: There are no refunds for The Trolley of Terror. Due to the high demand for these tickets, there will not be any refunds for anyone who misses the tour.  By the time the tours are upon us, we've turned down many riders who are interested in joining us because the tours are "sold out." Having a rider cancel the week of or the day of does not give us enough time to resell that ticket. Thank you for your understanding.