Choose Showtime to Buy Tickets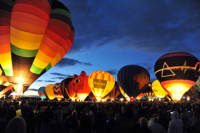 An AT&SF Production
ABQ Trolley X: Trolley Glow
Round-trip Transportation to Balloon Fiesta Park & Chasers' Club Access
Ages: All Ages Price: $65
This Event Has Ended
This all-inclusive tour includes round-trip transportation on ABQ Trolley X (a luxury, climate-controlled, 14-passenger Mercedes van) from Hotel Albuquerque at Old Town to Balloon Fiesta Park (approximately 20 miles round trip) and access to the Balloon Fiesta's exclusive Chasers' Club (a $45 value). Your Chasers' Club ticket gives you guaranteed seating in private outdoor patio located next to the launch field where you can enjoy catered food along with dessert and refreshments. The Chasers' Club is located on the north end of the field with a deluxe view of the launch site. ABQ Trolley Glow also includes general admission to Balloon Fiesta and exclusive transportation route with limited traffic! There are only 14 seats available for each tour. These exclusive tours sell out well in advance!
---
Twilight Twinkle Glow™ / Balloon Glow / Night Magic Glow™
The events now known as balloon glows were invented in Albuquerque in 1979, when local pilots inflated balloons on Christmas Eve night as a thank you to local residents. The sight of balloons lit from within at night like giant holiday ornaments is breathtaking, and glow events are now held all over the world. Balloon Fiesta launched its Balloon Glow, the world's biggest, in 1987. Fiesta Glow all burns when all the balloons fire their burners and light up at the same time are perhaps the most spectacular single moment in all of Balloon Fiesta. The Balloon Glows followed by New Mexico's most spectacular fireworks displays - are now among Balloon Fiesta's most popular events.
---
NOTE: There are no refunds for ABQ Trolley Rise/Glow tickets. ABQ Trolley X travels to Balloon Fiesta park regardless of weather conditions. The Balloon Fiesta does not typically cancel events until just before they are scheduled to take place. If the Mass Ascension/Glow is cancelled due to weather, there is still entertainment and fireworks at the park (Glow only). Also, due to the high demand for these tickets, there will not be any refunds for anyone who misses the Trolley Rise/Glow. By the time the tours are upon us, we've turned down many riders who are interested in joining us because the tours are "sold out." Having a rider cancel the week of or the day of does not give us enough time to resell that ticket. Thank you for your understanding.