Choose Showtime to Buy Tickets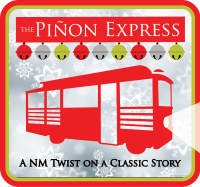 An AT&SF Production
ABQ Trolley Co: The Pinon Express
A magical ride to Santa's North Pole Depot
Presented in partnership with the New Mexico Steam Locomotive & Railroad Historical Society
Ages: All Ages Price: $20 - $30
This Event Has Ended
All aboooooard! Join the Albuquerque Tourism & Sightseeing Factory (AT&SF) and the New Mexico Steam Locomotive & Railroad Historical Society for a magical evening on The Piñon Express. Board the ABQ Trolley at Hotel Albuquerque and sit back and enjoy an audio reading of Chris Van Allsburg's classic book, The Polar Express, as we transport you from Old Town Albuquerque to the North Pole Depot.
Guests will disembark the Trolley at the home of a massive 120' long steam locomotive! Children will visit and take photos with Santa Claus on the AT&SF's steam locomotive Number 2926. A FREE professional family photo with Santa is included for each guest (provided by Liz Lopez Photography). Guests will also enjoy story time with Mrs. Claus and learn about the giant 2926 steam locomotive from Santa's engineers as they ready it for Christmas Eve. Hot cocoa and cookies from Rude Boy Cookies round out this holiday experience.
Children (and parents) are encouraged to come in pajamas and don't forget your camera; you'll want to capture all the memories!
---
Space is limited to 34 seats per tour. Get your tickets early before they sell out! November/December evenings in Albuquerque can be quite brisk; please dress for 30 degree weather as we will be riding in an open sleigh, er Trolley (blankets, long underwear, mittens, knit caps, wool socks, etc. will be necessary).
NOTE: There are no refunds for tickets. Due to the high demand for these tickets, there will not be any refunds for anyone who misses the tour. By the time the tours are upon us, we've turned down many riders who are interested in joining us because the tours are "sold out." Having a rider cancel the week of or the day of does not give us enough time to resell that ticket. Tickets are fully transferable. Thank you for your understanding.