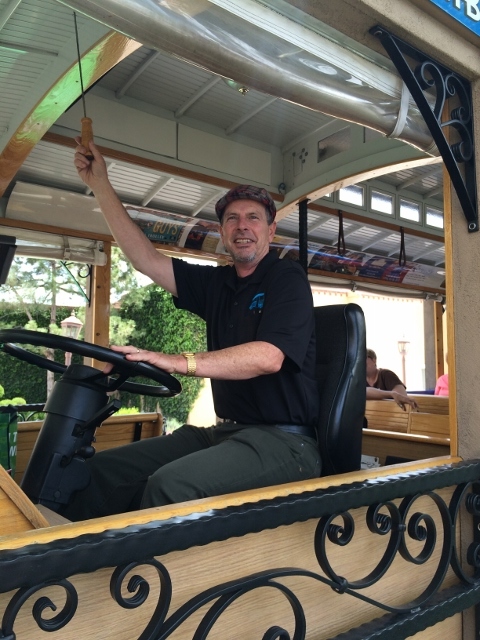 Meet Rorik!
Say hello to ABQ Trolley Co.'s illustrious driver, Rorik, who joined Team Trolley on April 1, 2014.
Becoming Part of the Team
After retiring from a 30-year career with UPS, Rorik worked as the Marketing Director for High Finance and Sandiago's restaurants. He joined the ACVB and formed a friendship with two guys, Mike and Jesse. In 2009, Rorik helped the two guys debut their new ABQ Trolley at Sandiago's restaurant. Rorik eventually left the restaurants to travel the country in an RV with his wife, Sherri. The birth of his first granddaughter brought him back to ABQ, and Rorik reconnected with the Trolley Guys. They hired him as a driver, and the rest is Trolley history.
Favorite thing about working for ABQ Trolley Co:
Watching an enthusiastic crowd participating in the tour and really getting into the spirit of ABQ.
Why he loves this job:
Meeting people from around the world.
He's more than just a driver!
Rorik fills in as a guide from time to time. He's also the judge – the toughest judge – during Trolley tour contests. He's the guy snapping your photo while you wait for your tour to start, and he holds the record for telling the corniest jokes on the Trolley.
Why he loves Albuquerque:
All of the amazing outdoor activities. In his 42 years in the city, Rorik has sampled them all!
Red or Green?
RED. Rorik loves Chimayo red chile – the hotter, the better!
Where to find Rorik when he's not on the Trolley:
Hiking, playing golf or serving on the board of Valle de Oro National Wildlife Refuge
Rorik's favorite city to visit:
San Francisco.
Last great vacation:
Walking 550 miles on the Camino de Santiago in Spain.
Ask him about:
Sports, and his drinking-wine-in-Spain hat.