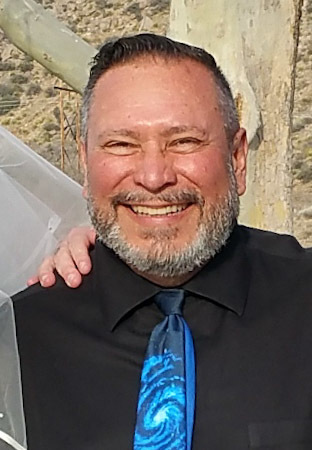 Meet Mauro!
Mauro is the LGBTQ Liaison for AT&SF and the newest member of the team. 
A longtime friend of ABQ Trolley Co. and self-proclaimed ambassador for Albuquerque, Mauro has been bringing his many houseguests and family members on our tours for years. When Mauro had the idea to recruit more LGBTQ travelers to our city, he immediately thought of AT&SF and sent a proposal to Trolley Guys, Mike and Jesse. It was perfect timing. As it turned out, the Trolley Guys wanted to start exactly such a program!
Mauro's role with the company will be to market to local and out-of-town LGBTQ audiences and create special tours and events. You may also find him giving Best of ABQ City Tours on board the Trolley or providing translation services for our Spanish-speaking audiences. Mauro has a lifelong commitment to bettering his community, and we are truly lucky to have him on the AT&SF Team.
Back to his roots:
Mauro grew up in Albuquerque but eventually moved to Washington, D.C. to attend law school at George Washington University. He later lived in Fort Lauderdale, FL, and Puerto Rico before moving back to his hometown.
What he loves about Albuquerque:
Mauro has a long list of reasons to love the city. He loves the weather and the food. He also loves the beauty of the natural landscape, the culture and the friendly people. He likes that Albuquerque is big enough to have "just about everything", but small enough that he can get anywhere in about 15 minutes. And, having lived in DC, he appreciates that traffic jams in ABQ are merely slow-downs!
Red or Green?
Both! Mauro says it depend on his mood, but when he eats out, he almost always orders "Christmas."
What he likes about working for AT&SF:
Mauro LOVES people. He can't wait to meet new people and show off the city that he loves.
Lawyer up:
Mauro is a "recovering attorney" since 1995 when he left his job as an AIDS attorney and began to make an even bigger impact on his community. Mauro is currently on the board of the Wheels Museum and the Southwest Gay and Lesbian Film Festival. He is president of the ABQ LGBTQ Chamber of Commerce and he is the NM Account Executive for the NM Pride Guide.
All the world's a stage:
Mauro is very proud of Albuquerque's 35 local theater groups, and he's also a member. Catch him onstage, performing with The Dolls.
Ever the host:
Mauro and his husband host "couch-surfing" travelers from across the globe. Their recent guests have included visitors from Turkey, Guatemala, France and Germany. Mauro makes sure his guests have a wonderful time and leave with a great impression of ABQ (and a Trolley tour too!).